The picture below shows a DID VX Heavy Duty X-Ring Chain and JT Sprocket Kit. Thousands of other top quality spares listed on our website at refreshingly low prices.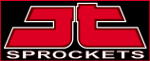 Chain and Sprocket Kit
Contains:
DID 520 VX Heavy Duty Drive Chain - Standard Length
JT Front Steel Sprocket - Standard Tooth Size
JT Rear Steel Sprocket - Standard Tooth Size
A rivet link is included with the drive chain
DID 520 VX X-Ring Chain
Specification
| Pin Length | Roller Diameter | Plate Thickness | Weight | Tensile Strength | Colour |
| --- | --- | --- | --- | --- | --- |
| 18.70 | 10.22mm | 2.0mm | 1.52kg per 100 links | 36.5KN | Plain |
DID's VX Ring chain uses patented X-Ring seals. X-ring seals are superior to other types of seal because of the unique X-shaped cross section - it is better at keeping lubrication in, while also producing less friction than an O-ring seal.
DID's X-ring chains have 40% greater wear resistance than DID's O-ring chain and 25 times that of the DID standard chain. With the correct maintenance, an X-ring chain will last longer than an O-ring or unsealed chain.
JT Sprockets
JT is the best selling aftermarket sprocket in the world. Using the finest raw materials and cutting-edge technology in production, CNC computer design and precision machining, JT ensures maximum durability and performance.
JT front sprockets are made with SCM420 chromoly steel alloy, while the rear sprocket is manufactured with ultra-durable high-carbon C49 steel.
Related Products for DID and JT Chain and Sprocket Kit
DID 520 VX drive chains are always supplied 'open' with a rivet link (included). You will need a specialised tool in order to rivet the chain, or take it to a mechanic who can do it for you. A spring link is available, but a spring link has only 65% of the strength of a rivet link and therefore, a rivet link is always recommended.
It is important to periodically inspect and lubricate the chain to maximise chain life.
Workshop tools and consumables

All prices are in (AUD)and include GST at 10% where applicable. GST will be deducted at the checkout for goods supplied to outside Australia.