The picture below shows a Crankshaft Seal and Mainbearing Kit. Thousands of other top quality spares listed on our website at refreshingly low prices.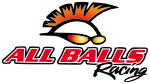 All Balls Crank Bearing and Seal Kit
All Balls crankshaft seal and mainbearing kits combine Koyo high quality, precision engine bearings with, where appropriate, double lip seals.
Koyo bearings are widely used in engines and are supplied as original equipment to many motorcycle and ATV manufacturers.
Where included, the double lip seal utilises a teflon contact area, resulting in less wear on the crankshaft pin and can tolerate a 'dry start' without failure.

All prices are in (AUD)and include GST at 10% where applicable. GST will be deducted at the checkout for goods supplied to outside Australia.