WRP are performance specialists with a range of braking and racing products tested on the track to bring premium performance to the motorcycle enthusiast.
WRP Front Brake Disc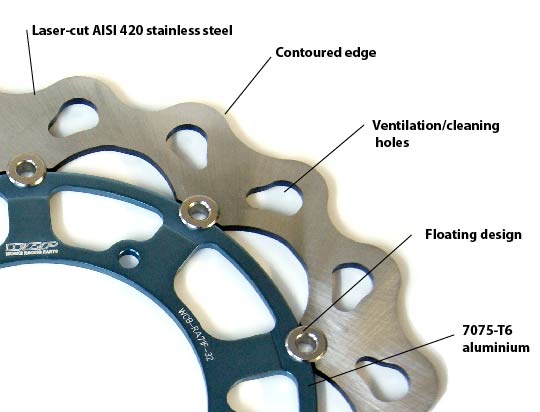 What gives WRP discs their premium stopping power?
Laser Cut AISI 420 Stainless Steel
Laser cut for accuracy, the AISI 420 grade stainless steel is a heat treated, high carbon steel for ultimate strength and corrosion resistance. The steel undergoes a lap-grinding process to ensure a perfect and parallel surface for good pad/disc contact and ultimate stopping power.
Contoured Edge
The contours of the WRP wavy discs don't just look good - they provide superior heat dissipation to prevent brake fade
Ventilation/Cleaning Holes
The experienced engineers behind WRP discs incorporate ventilation/cleaning holes into the disc design to both reduce weight and constantly clean water away from the surface of the pads.
Floating design
The 'controlled float' of a WRP floating disc allows for a small amount of lateral movement in the friction surface, allowing for better disc centering in the caliper and therefore, better braking grip. Metal expands under high temperatures such as under heavy braking - in a solid disc this would cause warping, but in a two-piece floating disc the steel has the freedom to expand leading to preventing disc warping
7075-T6 aluminium hub
WRP use a sturdy, corrosion resistant heat treated aluminium, saving weight compared to other materials or solid discs.
Safety!
Always ensure brake discs are fitted by a qualified mechanic and for maximum performance and life always fit new pads at the same time you fit a new brake disc. Front and rear brake discs do not need to be replaced at the same time, but where the front is twin caliper both front discs must be replaced together.