The picture below shows a Chain DID V O-Ring Super Heavy Duty. Thousands of other top quality spares listed on our website at refreshingly low prices.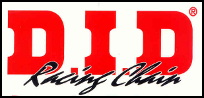 DID 630 Professional V O-Ring Chain
The O-ring seals on DID's V chain work to keep lubrication on the chain, enhancing its wear resistance by 20 times that of a standard DID chain. This means the chain will resist stretching more than a standard chain. The solid bushings and quad-riveted pins are resistant to shock and corrosion which also assists the chain's longevity.
Many OE manufacturer's chains now feature O-rings, and if the original chain was sealed, it must be replaced with another sealed (O-Ring or X-Ring) chain.
DID's V O-Ring Chain is an excellent-value chain that falls between the lower price standard chain and the superior sealed X-ring chain that sits in the higher price bracket.
Specification
| Pin Length | Roller Diameter | Plate Thickness | Weight | Tensile Strength |
| --- | --- | --- | --- | --- |
| 25.30 | 11.96mm | 2.4mm | 2.96kg per 100 links | 48.1KN |
Sealed chains require lubrication every 500km (300 miles) in order to prevent surface rust and ensure performance.
Related Products

All prices are in (AUD)and include GST at 10% where applicable. GST will be deducted at the checkout for goods supplied to outside Australia.