The picture below shows a DID V Super Heavy Duty O-Ring Chain and JT Sprocket Kit. Thousands of other top quality spares listed on our website at refreshingly low prices.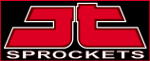 Chain and Sprocket Kit
Contains:
DID 630 V Heavy Duty O-Ring Chain - Standard Length
JT Front Steel Sprocket - Standard Tooth Size
JT Rear Steel Sprocket - Standard Tooth Size
A rivet link is included with the drive chain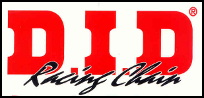 DID 630 Professional V O-Ring Chain
The O-ring seals on DID's V chain work to keep lubrication on the chain, enhancing its wear resistance by 20 times that of a standard DID chain. This means the chain will resist stretching more than a standard chain. The solid bushings and quad-riveted pins are resistant to shock and corrosion which also assists the chain's longevity.
Many OE manufacturer's chains now feature O-rings, and if the original chain was sealed, it must be replaced with another sealed (O-Ring or X-Ring) chain.
DID's V O-Ring Chain is an excellent-value chain that falls between the lower price standard chain and the superior sealed X-ring chain that sits in the higher price bracket.
Specification
| Pin Length | Roller Diameter | Plate Thickness | Weight | Tensile Strength |
| --- | --- | --- | --- | --- |
| 25.30 | 11.96mm | 2.4mm | 2.96kg per 100 links | 48.1KN |
Sealed chains require lubrication every 500km (300 miles) in order to prevent surface rust and ensure performance.
JT Sprockets
JT is the best selling aftermarket sprocket in the world. Using the finest raw materials and cutting-edge technology in production, CNC computer design and precision machining, JT ensures maximum durability and performance.
JT front sprockets are made with SCM420 chromoly steel alloy, while the rear sprocket is manufactured with ultra-durable high-carbon C49 steel.
Related Products for DID and JT Chain and Sprocket Kit
DID V drive chains are always supplied 'open' with a rivet link (included). You will need a specialised tool in order to rivet the chain, or take it to a mechanic who can do it for you. A spring link is available, but a spring link has only 65% of the strength of a rivet link and therefore, a rivet link is always recommended.
It is important to periodically inspect and lubricate the chain to maximise chain life.
Workshop tools and consumables

All prices are in (AUD)and include GST at 10% where applicable. GST will be deducted at the checkout for goods supplied to outside Australia.