The picture below shows a Chain DID VX3 X-Ring Premium Gold & Black. Thousands of other top quality spares listed on our website at refreshingly low prices.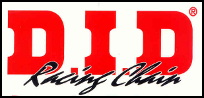 DID VX3 Premium X-Ring Chain Gold/Black
Key Features
X-Ring
DID's VX3 Chain uses patented low-friction X-ring seals. Like O rings, X rings function to seal in lubrication and keep dirt out.

Where the cross-section of an O ring is circular, the cross-section of an X ring is X or cross-shaped. This gives the seal additional contact points compared to the O ring, offering superior sealing and protection against dirt and grit getting stuck under the seal.
In addition, when under pressure, an O ring becomes squashed and causes friction. An X ring, when under pressure, diverts this pressure by twisting instead, so an X ring decreases friction between side plates and reduces power loss by 50% of any other type O-ring chain.

DID's X rings have 40% greater wear resistance than an O-ring chain and 23 times that of a DID standard chain. This means more resistance to stretching, bowing and warping and smoother handling. With proper maintenance, an X-ring chain will last longer than any O ring or unsealed chain.
Direct Energy Transfer
DID's VX3 features new 'Direct Energy Transfer', which provides excellent throttle response due to an increased chain rigidity.
Model Coverage
DID VX3 chains are suitable for motorcycles up to 800cc.
Specification
| Pin Length | Roller Diameter | Plate Thickness | Weight | Tensile Strength | Colour |
| --- | --- | --- | --- | --- | --- |
| 18.70 | 10.22mm | 2.0mm | 1.52kg per 100 links | 36.5KN | Gold and black |
Sealed chains require lubrication every 500km (300 miles) in order to prevent surface rust and ensure performance.
For more information about transmission chains, take a look at our Chain Maintenance Guide or our Chain Dimensions Guide
Related Products

All prices are in (AUD)and include GST at 10% where applicable. GST will be deducted at the checkout for goods supplied to outside Australia.