The picture below shows a Sprocket Rear Plus 3 Teeth - JT (Check Chain Length). Thousands of other top quality spares listed on our website at refreshingly low prices.
JT Sprockets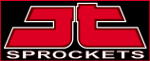 Rear Sprocket
JT are the leading manufacturer of aftermarket motorcycle sprockets, with the largest and most advanced factory in the world.
Motorcycle Sprockets made the right way...
There's only one way to make a sprocket that meets the highest quality standards and thats hobbing, machining and drilling. This gives the closest tolerances and most accurate tooth profiles.
...with the right materials...
By sourcing the best quality raw materials for their motorcycle sprockets, JT can ensure the best quality end product.
JT are the only manufacturer to use ultra-durable high carbon C49 steel for their motorcycle sprockets. This is a higher carbon steel than the typical C45 steel used by other manufacturers (including original equipment manufacturers) and so is harder and stronger than many other sprockets on the market.
...to meet or exceed the highest quality standards
Each JT sprocket goes through 10 individual quality control checks before leaving the factory to ensure that it meets or exceeds the highest quality standards for the motorcycle industry. And a good quality sprocket means less wear on the drive chain.

All prices are in (AUD)and include GST at 10% where applicable. GST will be deducted at the checkout for goods supplied to outside Australia.