The picture below shows a Pads Front EBC Standard (GG Type). Thousands of other top quality spares listed on our website at refreshingly low prices.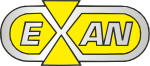 Exan Motorcycle Silencer
Carbon Cap Single Silencer in Black 'Satin' Sleeve
An ultra modern carbon fibre end cap brings a true racing feel to any bike, accompanied by a unique 'satin' brushed black steel sleeve setting this silencer apart from the crowd.
Handmade in Italy since 1996, Exan exhausts and silencers combine the finest Italian craftsmanship with the best materials and latest equipment. Every aspect of production is under Exan's fine quality control standards as is their testing using their own state-of-the-art test bed.
Extensive research and study goes into each model of motorcycle to determine the optimum air flow and weight reduction. The result is that all Exan silencers offer strong performance at any running speed while also saving weight compared to the original silencer.
This silencer is supplied with a removable baffle to regulate noise levels for road use.
Removing the baffle will allow for better airflow for racing, but will also make the silencer louder and not suitable for use on the road.
Link pipe and fitting kit are included

All prices are in (AUD)and include GST at 10% where applicable. GST will be deducted at the checkout for goods supplied to outside Australia.